The job search landscape today is almost unrecognizable from what we've seen before.
So many people work from home these days that many companies now consider remote work a standard operating procedure. Others are struggling to bounce back from layoffs caused by the COVID-19 pandemic, or belong to the growing number of workers who have quit their jobs in recent months — a group sizable enough to make the term "the Great Resignation" stick.
No matter which boat you're in, it's probably high time to give your resume a refresh. But be forewarned: Now, more than ever, hiring managers aren't going to suffer fools.
"Everyone is fatigued, and attention spans are low," says Dana Leavy-Detrick, founder of Brooklyn Resume Studio. "It's that much more important to be concise and impactful."
Money teamed up with Leavy-Detrick to create an effective resume for the year ahead. Whether you're starting over completely or want to see what kind of new opportunities are available in your field, here's how to write a resume worthy of your dream job — and a free resume template to boot.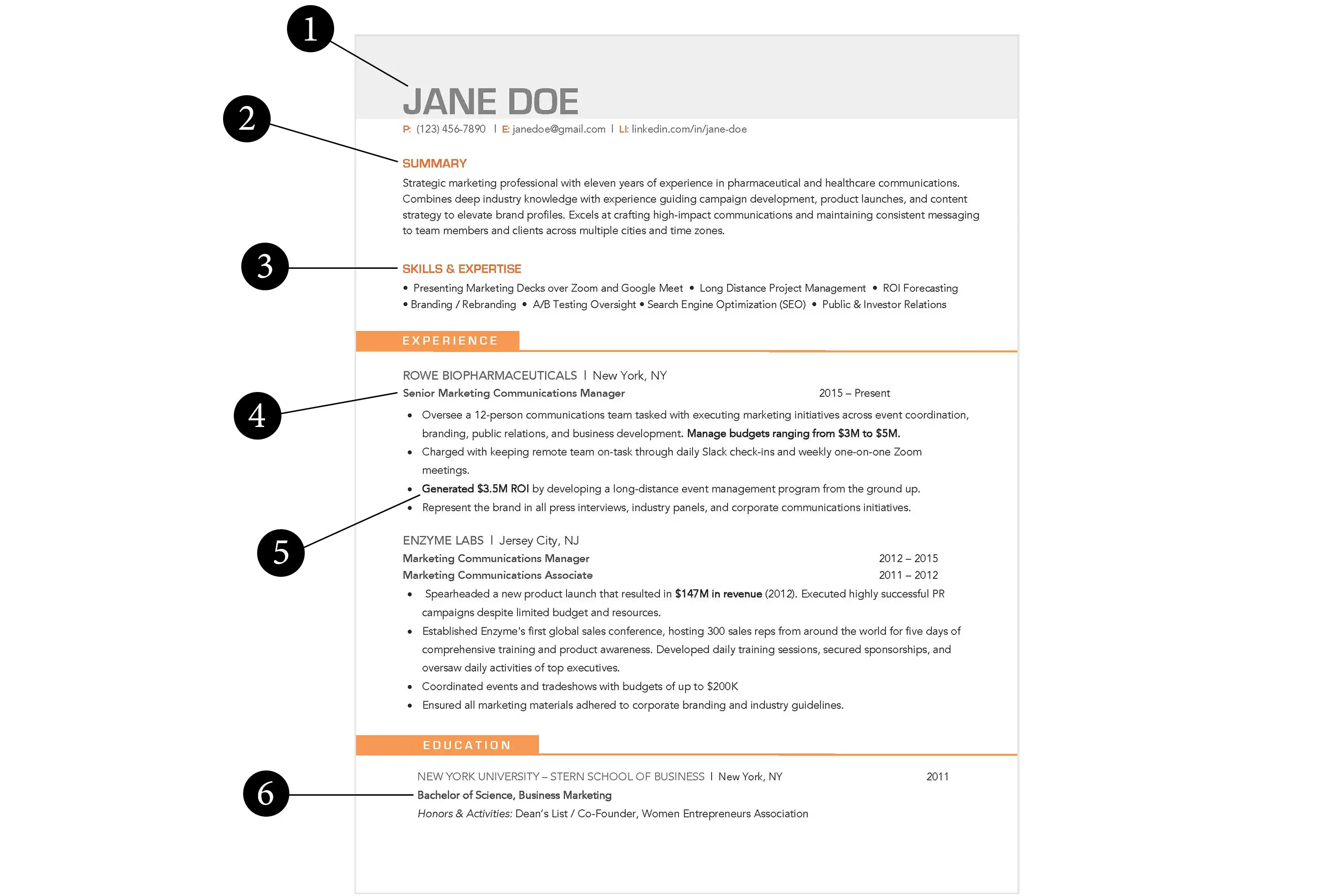 (Resume design courtesy of Dana Leavy-Detrick; click here for a free downloadable template)
1. Pick a classic resume format and font
When it comes to resume format and design, opt for a clean layout. A 2018 study from the job site Ladders found that resumes with so-called F-pattern and E-pattern layouts, which mimic how our eyes scan web pages, hold a recruiter's attention for longer than those aligned down the center, or from right to left.
A word on font: There's no specific "best" font for resumes, but you should use the same font style throughout, Leavy-Detrick says. Play with different weights and sizes to draw a recruiter's eye to key parts of your resume (check out the bolded figures on our resume template for ideas). Sans serif fonts like Arial or Calibri are usually good bets.
2. Don't be afraid to go bold
If you're applying for an investment banking job, a hot-pink resume probably won't do you any favors. But subtle pops of color, like the orange used here, will work for just about everyone.
Another strategy for making your resume stand out is, of course, with the content you put on it. In 2022, you'll get extra credit for highlighting your resilience. How have you dealt with change and managed your time over the strangest two-year period most of us have experienced? Kept your team engaged and mitigated turnover? Shaped company culture in a hybrid work environment — where coworkers are now living in different cities, and maybe even different time zones?
"The work environment has changed," Leavy-Detrick says. "Employers have had to adjust." Prove that you can too.
Read the full article here.